Tattoo Numbing Cream: A Painless Solution to Tattooing!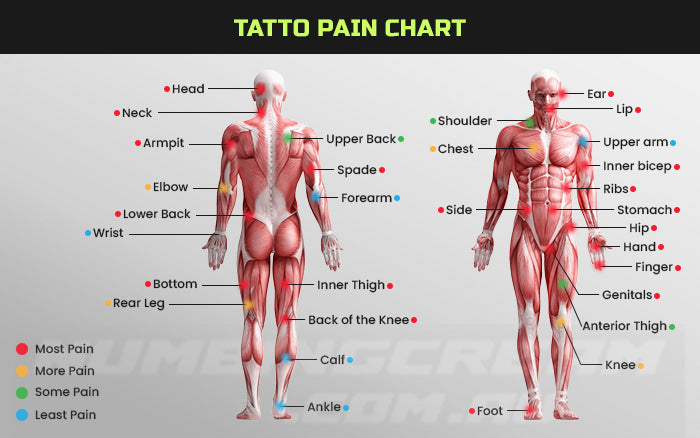 Getting inked for the first time can lead you to utter excitement and cheerfulness.  But, are you aware of the pain and agony involved in the tattooing process? Well, tattooing is an intensely painful process, particularly for areas having little flesh between the skin and the bone.
 To reduce this pain and get some relief, you will find a plethora of tattoo numbing cream products available in the market. The application of such desensitizing creams during an inking session can let you get a tattoo of your choice without screaming or crying.
Power of Tattoo Numbing Creams
Getting a tingly sensation is common during an inking session. But, the question is, can you bear it for long hours? If not, consider applying a good tattoo numbing cream during and after the tattooing session to minimize the pain and anguish. Numbing creams specialize in preventing painful neurons to transport distressing signals to the brain.
Talking about the application process, these creams should always be applied in smaller sections of the skin. Once it's applied, the skin absorbs the solution and numbs the nerve endings in the area. This anesthetizes the epidermis and reduces the agony of getting inked.
Numbing creams are similar to pain-relief drugs that block the nerve signals in the body. They are extremely effective in making tormenting medical and cosmetic procedures comfortable. Particularly, when it comes to inking a sensitive skin area, numbing agents can help you enjoy the session without crying, grimacing, or screaming out of pain.
What is the Best Tattoo Desensitizing Cream?
Now, that you know the painless solution to tattooing, are you looking for the safest and most effective numbing cream to use? After overseeing the active ingredients and efficacy of multiple tattoo numbing creams, we have come up with one name that spotted the first position - TKTX!
Picking the right tattoo desensitizing cream is as important as applying it to reduce the pain of tattooing. The right product can help you make your tattoo artist's job, ink application, and healing process easier. Although the market is flooded with numerous numbing creams,  TKTX tops the list of the most-tried and tested numbing creams across the globe.
The best thing about this exceptional desensitizing cream is that all of its variants come in a water-based solution. Hence, it does not make the skin area oily or greasy on which it is applied. Besides tattoos, you can also use this cream before piercing or other painful cosmetic procedures.
Moving on, let's have a look at the different variants of TKTX creams and their uses.
TKTX Cream: Variants & Uses
TKTX Gold Numbing Cream: This is a perfect solution for fast and strong numbing as it is 40% more effective in numbing skin areas. It starts showing its effect within 25-30 minutes and lasts for around 1-2 hours. Hence, it is considered the best option for numbing the skin areas of those people who fret about microblading, injections, hair removal, and permanent or semi-permanent makeup. 
TKTX Green Numbing Cream: This variant of TKTX numbing cream is easy and quick to apply. It is highly effective in providing a painless and pleasurable experience during micro-surgeries, piercing, and inking. Just like the TKTX gold variant, this solution also starts showing its effects within 25 minutes and lasts for almost 5 hours. So, if you are looking for a fast-acting strong numbing agent, opt for TKTX green variant. 
TKTX White Numbing Cream: This numbing agent is great for short tattoo sessions. It can numb a skin area as quickly as 25-35 minutes and lasts for around 30 minutes to an hour. It helps in reducing the discomfort and agony of piercing, pushing injection, and inking. 
The list doesn't end here; there are a few other variants of TKTX tattoo numbing cream that you can check out on the web before getting inked. 
Aftercare Tips to Consider! 
If the new tattoo on your body is that one thing you don't want to end up regretting, ensure to follow these tattoo aftercare tips. 
Consider covering your new tattoo with a thin layer of petroleum jelly and a bandage immediately after the tattooing session.
Remove the bandage the next day and wash the tattoo using antimicrobial soap & water.
Apply a generous amount of vaseline or tattoo healing cream on the inked area twice a day until your new tattoo completely heals. 
According to tattoo experts, following a correct tattoo aftercare routine can not only heal the tattoo soon but also prevent the inked area from severe complications and infections. Particularly, if you have got an excessively sensitive area of your skin inked, ensure to apply good tattoo healing cream. 
Here at Numbing Cream, you will find a top-notch selection of tattoo desensitizing creams that provide long-lasting numbing effects. So, wait no longer; scroll to check out our extensive range of numbing creams!